What is the difference between Round Sling and Webb Sling
Need to lift something? Ever round sling heard of synthetic material lifting slings? They are available in two different types, round and webb. Lifting slings are essential when lifting heavy loads, but how do you know which one to use?Round slings are made of internal load bearing strands with a protective cover. These types of slings are fabricated using 100% high tenacity polyester yarn, wound in a continuous hank to form an endless sling for the core. For the exterior, round slings are a durable 100% polyester tubular sleeve which helps to protect the inside strands. They are soft and flexible and a good option if you need to choke the load.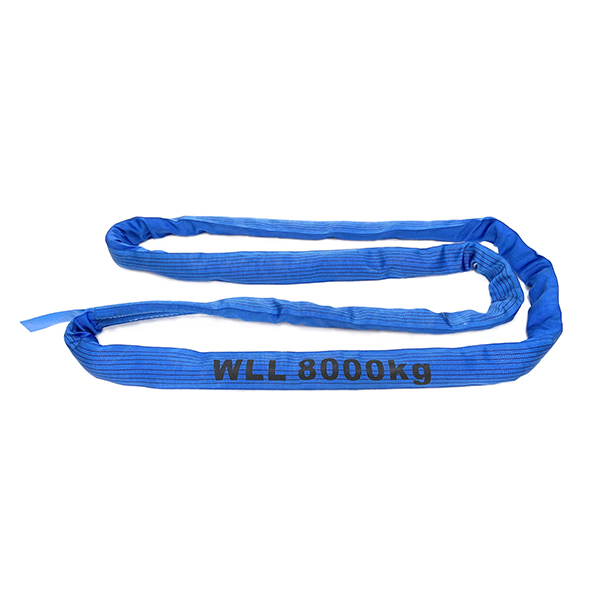 Please refer to the main image for an example of a round sling. Webb slings are fabricated from 100% high tenacity polyester yarn. The eyes on the ends have extra reinforcing to reduce wear and tear. Web slings are a little stiffer than round slings and tend to have a wider surface area as you go up to bigger working loads. Having a wide flat surface area reduces the amount of force on one given point.These slings adapt to all types, sizes, and load configurations while remaining lightweight and easy to rig, clean, and store. They offer excellent resistance to UV light, rot, and mildew. They also do not lose any strength in water and reach only 3% elongation.
This product can be exposed to high heat up to a maximum of 180°. Additionally, the absence of any metal parts in this product eliminates rust concerns and reduces the need for wear pads.Rated Loads cited are based on minimum pin diameters shown in WSTDA-WS-1. Pin Diameters smaller than these may reduce the rated load of the sling.Colour guidelines for polyester round sling covers are widely used to indicate the vertical rated load of round slings: however this is not followed by some manufacturers. Always select and use round slings by the rated load as shown on the sling identification tag. For a choker hitch, the angle of choke shall be 120° or greater.We see these used for more delicate loads such as items made from fibreglass.
For us to help you find the right lifting sling for your application, we need to know: The heaviest weight you will lift. The length of the sling required.How you're lifting for example, if you're choking the load it reduces the working load on the slings.Lifting slings come in many different working load limits and lengths, which is why these details are important. If you're lifting items with sharp edges, we advise that you use a protective cover on your material lifting slings, or look at alternative types of lifting slings like chain, wire rope or metal woven slings depending on the application. Both types of slings are often used to lift items such as poles, pipes, roofing sheets, stone, and any items that can't be marked.